National Centre for Resilience – Funding Opportunities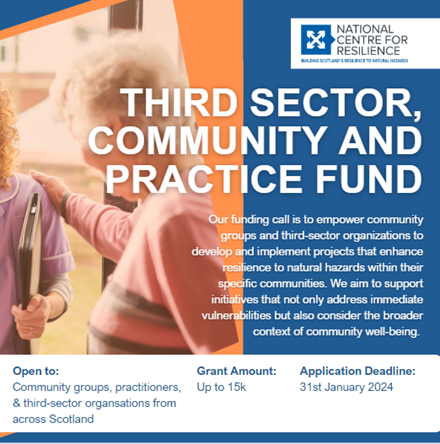 The Third Sector, Community and Practice Fund is new for the financial year 24/25.
Open to: Community Groups, Practitioners & Third Sector organisations from across Scotland
Grant Amount: Up to £15,000
Application Deadline: 31st January 2024
Theme: Building Resilience to Natural Hazards through Local Community and Place-Based Approaches
Intro: This funding call seeks to support 12-month projects that prioritize the adoption and implementation of local community and place-based approaches to build resilience. Projects should demonstrate a deep understanding of local issues, interconnections, and relationships within their specific setting while focusing on coordinating action and investment to improve the quality of life for their community. Additionally, projects should serve as frameworks for knowledge sharing and collaboration with other communities across Scotland facing similar challenges.
Full grant details, guidance and application form can be found here: https://www.gla.ac.uk/research/az/ncr/howtoworkwithus/#applyforfunding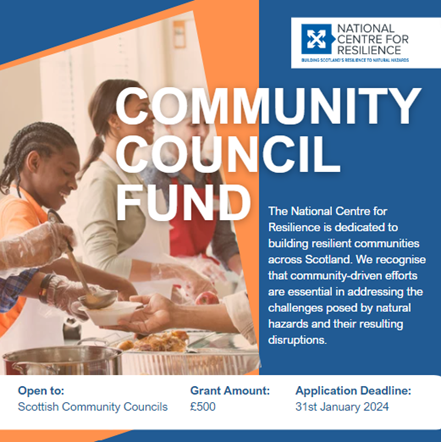 The Community Council Fund is a new Grant Call for the financial year 24/25.
Open to: Scottish Community Councils
Grant Amount: £500
Application Deadline: 31st January 2024
Intro:  The National Centre for Resilience (NCR) is dedicated to building resilient communities across Scotland. We recognise that community-driven efforts are essential in addressing the challenges posed by natural hazards and their resulting disruptions. Through this funding initiative, the NCR aims to support Scottish Community Councils by providing funding to develop local resilience plans that address potential natural hazards such as heavy snow, landslides, high winds, and other disruptive events and subsequently enhance their local community preparedness and response to natural hazards.
Full grant details, guidance and application form can be found here: https://www.gla.ac.uk/research/az/ncr/howtoworkwithus/#applyforfunding