NESS Sensory Awareness Training 2022
NESS Sensory Awareness Training 2022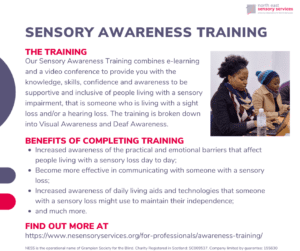 NESS Sensory Awareness Training is delivered to raise awareness of both the practical and the emotional impact of sensory loss.  NESS's Sensory Awareness Training combines e-learning and video conference software to provide you and your team with the knowledge, skills, confidence, and awareness to be supportive and inclusive of people living with a sight and/or a hearing loss.
The training is divided into a section on Visual Awareness and a section on Deaf Awareness, and the e-learning course is designed to stimulate all types of learners by incorporating quizzes, videos, and exercises throughout the course. Sensory Awareness Training covers a wide array of topics including, but not limited to, the different ways that vision is affected by sight loss; the different degrees of deafness and how these impact on communication; mobility techniques someone who is visually impaired may use; what British Sign Language is; and much, much more.
The e-learning module can be completed in your own time, and we recommend doing a little bit at a time. The video conference will take place on Microsoft Teams and this is a space for you to share personal and/or professional experiences with sensory loss, as well as discussing any questions you may have. Training provided in this way aims to emulate the dynamic nature of face-to-face discussions, with the flexibility of online training.
Whether you work in a context where you may encounter people living with a sensory loss, or whether you are interested in increasing your personal awareness of sensory loss, NESS's Sensory Awareness Training is an excellent place to increase your knowledge and to build skills which will help you be more supportive and inclusive of people living with a sensory impairment.
You can read more about NESS Sensory Awareness Training and book your place at https://www.nesensoryservices.org/for-professionals/awareness-training/