DVVA Vacancy – Finance Manager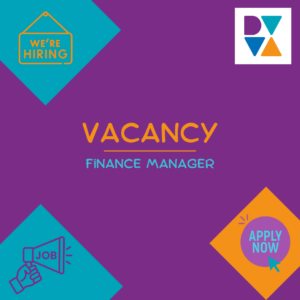 Finance Manager
Duration: Permanent
Hours: 35 hours per week
Salary: £33,255 – £36,950
We are looking for an experienced Finance Manager to join our team.
You will be responsible for monitoring and reporting on the financial position of the organisation, providing strategic financial advice and managing the day-to-day financial operations of the organisation.
We are an organisation with 52 staff and turnover of £2.2m. We use Sage Accounts and Sage payroll to process our financial transactions. Having launched our Strategic Plan in 2022, we are currently developing a financial strategy which will ensure the financial stability of the organisation for the future. The Finance Manager role will be key in reporting on, and ensuring we are on track with our objectives.
If you would like an informal discussion about the role prior to application, please contact us at recruitment@dvva.scot .
Finance Manager Job Description & Person Specification (JDPS)
Dundee Volunteer and Voluntary Action strives to be an Equal Opportunities Employer and we welcome applications from all sections of the community.
Subject to a satisfactory Disclosure and references.
The deadline for submitting applications is Midday, Tuesday 19th September