Hillcrest Foundation Now Open for Applications!
Hillcrest Foundation Now Open for Applications!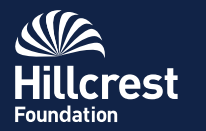 We are open for applications! 
We are currently accepting applications until 5pm on Monday 17 July 2023.
How do I apply?
Applications are to be made using our application form and then emailed to foundation@hillcrest.org.uk by the deadline.
Who can apply?
Community groups and small charities, based within our areas of operation in Scotland (Dundee, Edinburgh, Glasgow, Fife, Perth and Kinross, Aberdeen and Angus), and providing services, who are struggling to secure funds through mainstream funders or who have unsuccessfully explored all the statutory sources of funding.
Please read our guidelines for further details of who can apply.
How much can I apply for?
The maximum amount that can be applied for is £5,000, with the minimum being £500.
What makes a good application?
We have put together some guidelines and FAQs to help you with your application.
We want to fund good ideas that meet at least two of our values. You must demonstrate this in your application.
Our values are:
We listen to other points of view, learn from best practice and engage with our customers and communities as we recognise we are stronger and can contribute more if we have shared goals and collective efforts
We value our staff and customers and empower them in a positive way to participate, to adapt and to be inspired to take ownership and make positive change
We are ambitious for what our organisation and customers can achieve and strive to deliver the highest quality and value possible
We look for new ways of solving problems, strive for continuous reflection and improvement and promote others to do the same.