Mental Wealth Academy seeks Experts by Experience
The challenge of maintaining good mental health is becoming more visible. We are looking for people with lived experience of mental health challenges to help others to learn and understand. The mental wealth academy is a peer led group of experts by experience and professionals focusing on developing and sharing learning about experiences of mental health, wellbeing and recovery.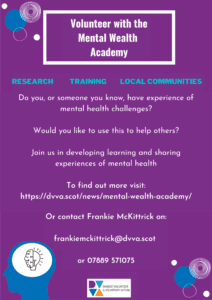 Together we are proving that experts by experience have knowledge, skills and talents that are valuable in their own rights. Currently we are collecting the evidence that this is true, conducting peer led, professionally supported research.
We are making contacts with other organizations to work alongside and make positive changes. We are showing that we, as experts by experience are skilled, talented, and knowledgeable.
As an expert by experience, you bring a range of knowledge, skills and talents that will help us make a difference to others and ourselves.
We are recruiting people with personal experience of mental health challenges. The purpose of the Mental Wealth Academy is to improve and empower people with mental health challenges. We are recruiting Experts by Experience.
If you would like to find out more and volunteer click here.
To discuss the role or the project contact us on frankiemckittrick@dvva.scot or 07889571075