New funding for community-based dementia support
New funding for community-based dementia support, Encouraging and Supporting Grassroots Activity has recently opened for applications. This fund is part of the About Dementia, Age Scotland and Scottish Government Partnership Fund.
The fund is aimed at smaller, grassroots organisations and groups looking to provide community-led support for people affected by dementia. A total of £145,921 of funding is available for this strand and within this, applicants can apply for awards of £5,000 to £20,000 over a 12-month period.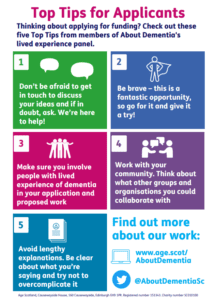 The fund criteria and application process have been co-produced by About Dementia staff and a lived experience panel of people living with dementia and unpaid carers. These individuals have played a crucial role in the fund design, and they will be continually involved in the assessment and decision-making process as the fund progresses.
The deadline for applications is 5 PM on Wednesday 24th August. We encourage those who are thinking of applying to get in touch with us to have a chat before they submit their applications. They can contact:
We are also holding an information session on Wednesday 3rd August on zoom at 11 AM. For the link to attend, please email dementiagrants@agescotland.org.uk.
More information on the fund guidance and application form is available on our website – https://www.ageuk.org.uk/scotland/what-we-do/dementia/about-dementia/encouraging-and-supporting-grassroots-activity-fund/